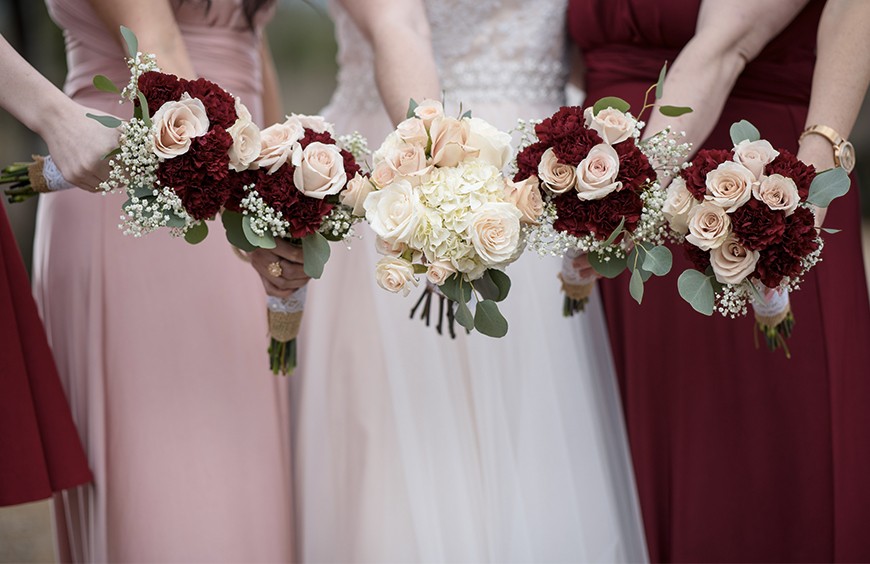 Bridesmaids: we dream about it and we get started!
Posted by  Dec 20, 2018  Blog  0 Comments
Are the pictures of American brides with their bridesmaids making you dream?
Here are some good reasons to adopt this practice and some useful tips for choosing them: 
Where does this tradition come from?
According to popular belief, this practice dates back to the rites of Ancient Rome. In fact, if we find close friends in the ten witnesses of the Roman marriage "by confarreatio" or in the procession escorting the bride, we are far from the role attributed today to the key figure in American marriages. This Anglo-Saxon practice, developed during the 18th century, is above all of social origin. The scale of the procession reflected the social position of the family, the aim being to highlight the girls to be married.
Why adopt this practice?
The cultural changes initiated in the 60s, relayed by Hollywood comedies, have dethroned the role of simple potiche of these young ladies in favor of a real mission of assistance. In France, the bride and groom traditionally entrust to the children of honor small roles (such as keeping the train of the bride or bringing the alliances), and solicit the help of their witnesses in the organization of their marriage. But if the choice of only one or two witnesses is difficult or even frustrating for you, you can add a few bridesmaids who will be touched by this sign of affection and happy to collaborate in the success of the happiest day of your life.
What will be their role?
They could be precious allies coming to reinforce your witnesses. Divide the roles of each according to their respective talents, taking into account their availability. So they can prepare your EVJF, take care of certain tasks (ceremonial booklet, guest book, table plan ...), write a speech, coordinate the secular ceremony, help welcoming and well being guests, organize games or video editing of the evening ...
How to choose them?
Freely choose the number of privileged people you want with you, but select them carefully in view of the mission that awaits them. Here are some winning tips on this important choice:
To be able to delegate with confidence it is important that they know your tastes perfectly and are not the type to want to impose their own.
As in any team, cohesion is a fundamental element of its success. You will therefore avoid choosing friends with incompatible characters or those too personal and egocentric unable to function in a group.
The organization of a wedding being a source of significant stress, privilege the friends showing diplomacy, kindness and understanding which will be able to listen to you, calm you and reassure you in moments of tension and doubt.
Remember that the main goal is to make you happy by sharing these great moments of your life with people who are dear to you, to hell with susceptibilities and the "politically correct" your choice must be above all emotional.
Take into account the constraints of your friends (availability and cost incurred) before offering them this role (especially if they live far from your home) because their schedule or their budget can block them and generate conflicts even if they love you and dream of living this adventure with you.
So go ahead and adopt like many modern couples this beautiful custom so dear to our Anglo-Saxon friends.